A United Church of Christ
1800 North Broadway, Escondido, CA 92026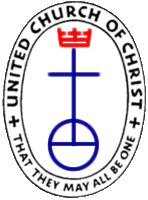 Pastors' Message for




August 2021
I have an update for all of you. After 2020, I had a call to represent our congregation in the larger community. I've always believed that we need to be present beyond the walls. There was a nudge in my heart to be present and support our men and women in uniform who put their lives on the line to protect our communities.
After a series of interviews and extensive background checks, I was officially sworn in by Sheriff William Gore (photo 1 with back to camera) as a chaplain for the San Diego Sheriff's Department. The other two in uniform in photo 2 are also new, sworn-in chaplains.
I have been officially assigned to the Rail Enforcement Unit. The department for a long period of time wanted a chaplain for this unit because they deal with the most difficult issues on the North Coastal rail lines from suicides on train tracks (picking up body parts of the deceased), drug trafficking, and the rising problem with homeless encampment. My chaplain director and the sergeant who interviewed me saw that I would be the perfect fit because this unit has a reputation in the department for recruiting "the biggest deputies who all look like NFL players."
I am blessed to be welcomed into this unit. The head sergeant and his deputies all have embraced me as a team member. Usually at morning team meetings, I hear updates on cases. But, the majority of time before the day begins, we laugh, joke around, and share each other's gym workout routines. We drink coffee, pause, reflect, and most importantly, be present for one another through an *incarnational spirit. It's wonderful to be in good human spirit before going out and seeing all that is hard for me to describe here.
I'm honored to represent FCCE beyond the walls and serve the deputies in my unit. I will be serving the department on my days off from church.
Blessings - Pastor Holgie
​