A United Church of Christ
1800 North Broadway, Escondido, CA 92026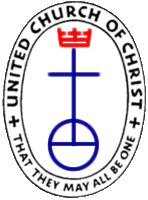 Pastor Holgie
campus Updates
Friends of FCCE,
Over the next several months I will introduce different types of Creeds in our Order of Worship. Many types of statements of faith will include the Apostles' Creed, the Nicene Creed and also the UCC Statement of Faith.
With the beauty of denominations we are able to learn from various statements of faith. It challenges us to think critically, historically and theologically.
I hope everyone has a safe and relaxing weekend.
​
Please resume wearing your masks while on the church campus, during meetings, during service, etc. Due to the rise in the COVID19 Delta Variance, the CDC recommends wearing masks.
​
Guidelines for our church are continually updated to maintain CDC COVID19 directives.
​
We need lectors for each Sunday. The sign-up list is at the table in the narthex or you can call Maureen to volunteer.
I want to remind all of you that Sunday is Communion Sunday. I ask that you bring your own elements on Sunday to celebrate the feast safely. I have seen all types of "bread" used for communion. I have seen animal crackers and oreos used to symbolically celebrate the sacrament feast. I encourage you to continue to be creative with communion by bringing in a bread of your choice- pita, hawaiian, or for our young people, you can bring a cookie. All represent and symbolize our feast together with Christ.
We will continue to wear masks for our indoor services. Doors will be open for better airflow. I know that many of us have been vaccinated, but we will continue to follow County guidelines for our health and safety.
If you have questions or concerns, please reach out to me either by email or text 203 464 7443. I will respond in the time frame of 9am-5pm on these days Tuesday, Wednesday, Thursday, Saturday and Sunday. Mondays and Fridays are my sabbath days.
​
The COVID 19 pandemic has increased the need to stay in contact with those we care about. Sending a personal card with your special message helps to bridge the gap of social distancing. Angel Wings cards can be purchased by calling Tina Talley (760-310-6158 or 760-741-2199). She will set up a time and place to meet for you to "shop"--her house or yours, a park, or the church parking lot!

Remember that your purchase of Angel Wings cards supports the work of our church!
to go to the Givelify page for information and instructions on how to simplify your giving.
The office hours are 9:00 A.M. to 1:00 P.M. Monday through Friday. Please call Norma if you need information regarding campus activities.
​
Grace and Peace, Pastor Holgie