A United Church of Christ
1800 North Broadway, Escondido, CA 92026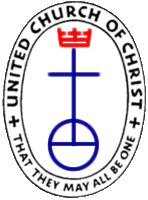 The Rose Garden Memorial for members that have passed away has been rescheduled to June 13th. A follow up dedication will be in the Rose Garden after services.
​
On Sunday October 25, 2020, FCCE dedicated our new Rose Garden Labyrinth (RGL) outside and in front of the large stain glass window. God even blessed it as we were literally showered with rain as Pastor Holgie blessed the RGL. There are two aspects to the RGL; one is the Rose Garden itself where church members have planted roses bushes in honor and memory of their loved ones; spaces are available for more plantings: the second aspect of the RGL is the labyrinth which is a walking path which circles between the rose paths.
The labyrinth is not a maze which is a network of paths meant to be a puzzle through which one has to find a way out. Rather, labyrinth is an ancient symbol that relates to wholeness. In the middle ages, people would journey to the Holy Land and when they reached Jerusalem which was the center of their spiritual world and their wholeness, and after spending time in prayer, they would return home with emboldened faith.
In more modern times, the labyrinth represents one personal journey to one's own center and wholeness, and back again out into the world with new found blessings. In addition to walking the labyrinth and "smelling the roses," one can do so as a 'walking prayer', either petitioning for ourselves and others or contemplatively. Both bring to mind Matthew 7:7 where we are told 'ask and you shall receive, seek and you shall find, and knock and the door will be open'.
As we walk the labyrinth petitioning God for ourselves and others, we enter the path asking for God's assistance with past pain, present concerns or future worries, knowing that if we ASK it will be given. At the center, we SEEK God's presence, knowing it will be found. As we return home, back out into the world, we have KNOCKED, knowing that that "the door will be opened" to God's joy and blessings.
When we walk the labyrinth being contemplative, as we enter we ASK for God's help in being silent so that that we can be open to God's presence. At the center, we SEEK God's presence by being still; later, as we return home , being grateful for God's blessings received, for the DOOR to God's heart has been opened.
For those more musically inclined, and keeping Matthew 7:7 still in mind, the songs "Just A Closer Walk with Thee" and "In The Garden," may come to our hearts and minds. Relative to "Just A Closer Walk with Thee," as we enter the path we are ASKING for God's help, knowing that "I am weak, but thou art strong"'; at the center, we are SEEKING God's presence, knowing that "Jesus keeps me from all wrong;" and returning to the world, KNOWING "I'll be satisfied, as I walk close to thee."
Relative to the song "In The Garden," "while the dew is still on the roses," as we enter we ASK God's help for "I know that He walks with me"; at the center, as I SEEK God's presence, I feel that "He…talks with me and tells me I am His own;" and as we return, I KNOW the true meaning of the lyric, "the joy we share as we tarry there, none other has ever known".
Finally, we need too keep in mind that the RGL is open to the public, to all faiths, for as we say in the UCC and FCCE "Whoever you are, and wherever you are on life's journey, you are welcome here!"
Sincerely,
Jim Gates