A United Church of Christ
1800 North Broadway, Escondido, CA 92026
(760) 745-3320,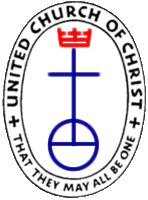 Well my friends, June is finally upon us. The weather is warming up, our children and grandchildren are finishing up their last couple weeks of school, and here at First Congregational Church of Escondido (FCCE) we are in the hustle of preparing for our Congregational Meeting at the end of the month. We have a lot of things going on for sure, but let us not forget to take some time to smell the fresh blossoming flowers and enjoy the feeling of the warm sun on our faces. After all, God created all this beauty for us to enjoy and celebrate in His Name.
Speaking of smelling the flowers, we have another opportunity to plant more roses in our Rose Garden Labyrinth this month, and a dedication will follow on Sunday June 13th. So be sure to take a moment to stop by the winding pathway that memorializes so many of our loved ones, and reflect on life and all it's beauty.
Be sure to keep your eye out for the FCCE Congregational Report, which will be going out to everyone shortly. You will find a new slate of officers, as well as the names of new members joining our ministry teams. Also included, will be updates from the Ministry Leadership Team (MLT) about their activity since January.
I am very excited to see our congregation moving forward, while continuing to keep the safety of everyone at the forefront of everything we do here at FCCE. Hopefully I will be able to see all your smiling faces soon, as I have missed them very much.
Gary Patterson
Church Moderator