A United Church of Christ
1800 North Broadway, Escondido, CA 92026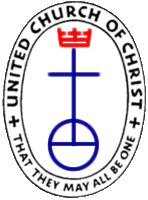 A short biography of our pastor
Rev. Holgie Choi has been the Associate Minister for Youth and Families at the Acton Congregational Church since October of 2007. He was ordained on November 7th, 2010 after a three year discernment process towards ordination in the United Church of Christ.
Holgie was born in Seoul, South Korea, and immigrated to the states at the age of one. He was reared in Milford, CT, and received his undergraduate degree in political science from the University of Connecticut (2002) where he was the recipient of a four-year Full Leadership Scholarship and elected to Phi Beta Kappa.
Holgie completed his Master of Divinity degree from Princeton Theological Seminary in New Jersey in 2005, and in 2006 he completed a Master of Theology in Homiletics from Gordon-Conwell Theological Seminary in Massachusetts. He is currently a doctoral candidate at Gordon-Conwell Theological Seminary. His thesis-project is on the topic of Dietrich Bonhoeffer's Christology, soteriology, and ecclesiology.
Holgie was also a youth pastor for five years at the Korean Presbyterian Church of Westchester County in Pelham, NY (2002-2007) where his primary role was to minister to youth and college students. In addition, Holgie has been a guest speaker for many youth and college retreats and conferences. Holgie was also the chaplain intern at St. Vincent Hospital in Worchester, MA(2008-2009). He has recently taught a class as a guest lecturer on Bonhoeffer's theology of sociality at Mt. Ida College in Newton, MA and has been on the Committee on Ministry for the Central Association Massachusetts Conference (2014-2016).
​
Holgie enjoys participating in a variety of sports and activities, including flag football, dodge ball, salt water fishing, and power-lifting. One might also find him reading philosophy and theology books at a local Starbucks over a Venti-sized Dark Roast.