A United Church of Christ
1800 North Broadway, Escondido, CA 92026
(760) 745-3320,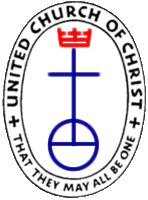 Thank you to Dave Joslyn
and Gary Murphy!
The shed, located in the northeast corner behind Plymouth House, was generously donated to FCCE by Dave Joslyn. The hundreds of parts were assembled by Dave and Gary Murphy. They did this work in the heat of the last few weeks. Please show them your appreciation when you get a chance. The shed will be used to store canned goods for Matthew 633.
Sheree Dohanyos
We're declaring the official finish. Few odds and ends to be done yet but it is ready. Can you see the relief on our faces!!