A United Church of Christ
1800 North Broadway, Escondido, CA 92026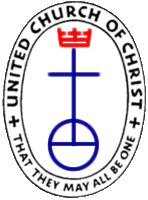 To see and hear the interview please go to your browser and enter: You Tube Power Lifting Pastor, scroll down to Zevely Zone and click on meet Escondido's powerlifting pastor.
As an athlete, Rev. Holgie Choi keeps picking up awards for power-lifting, but refrains from refrains from pushing his weight around. Rev. Choi placed third in the Drug Tested National Competition, in Las Vegas, NV, in 2019, and has picked up other awards since. Outside of competition, Rev. Choi is pastor of First Congregational Church of Escondido and describes himself as a strong "teddy bear."
At 39 years old, Rev. Choi can lift more than 400 pounds, yet when it comes to up lifting the community, he readily acknowledges it takes partnerships. Under his leadership, the 125 year old congregation has built new relationships in the community as they help provide for the homeless, protect the vulnerable from sex trafficking, and make their Church building a sanctuary for community groups that range form scouts to 12 step groups. He humbly explains, "Doing God's work lightens my load."
​
In a local news interview, Rev. Choi said, "My calling in life is to better the other person; to serve the other person; to help the other person." This heart for others was visible in his previous calling as Associate Minister of the Congregational Church in Acton, MA and in the growth of First Congregational Church of Escondido. Rev. Holgie Choi is a pastor with a powerful sense of purpose.