A United Church of Christ
1800 North Broadway, Escondido, CA 92026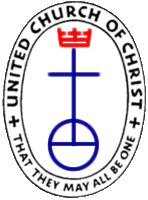 The First Congregational Church of Escondido is a *United Church of Christ community that is compatible with a wide variety of theological perspectives. We are an inclusive family of believers who welcome diverse lifestyles and provide hospitality and service within an beyond the walls of the church. We are a self-governing church, guided by God's unconditional love and grace, affirming the belief of the United Church of Christ that "God is still speaking."
The First Congregational Church of Escondido aspires:
to create a safe and sacred place where everyone may be empowered and healed in order to abide in the love of Christ;

to learn from the past, embrace the present, and seek God's plan for the future;

to provide innovative worship and inspirational music;

to offer the life-long study and meaningful spiritual growth; and

to connect to the community by ministering to those in need and sharing our resources.
As we journey into the future, we envision uniting in faith and working together while we navigate the constant changes in Escondido and the world. We will strive to increase our involvement in the cultural, ethnic, and generational diversity in our community. In all that we do, we will seek to embody the worship statement of the United church of Christ.
​
*To learn more about the United Church of Christ both locally and nationally, please visit the UCC Website. Click here.